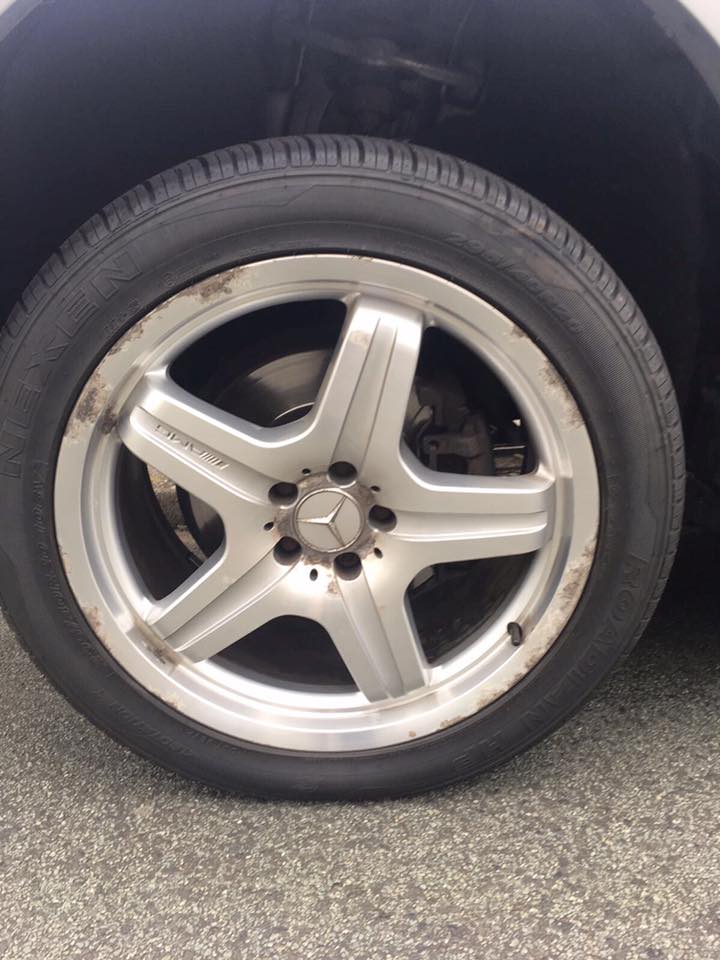 Alloy Wheel Scuff Repair
25 August 2022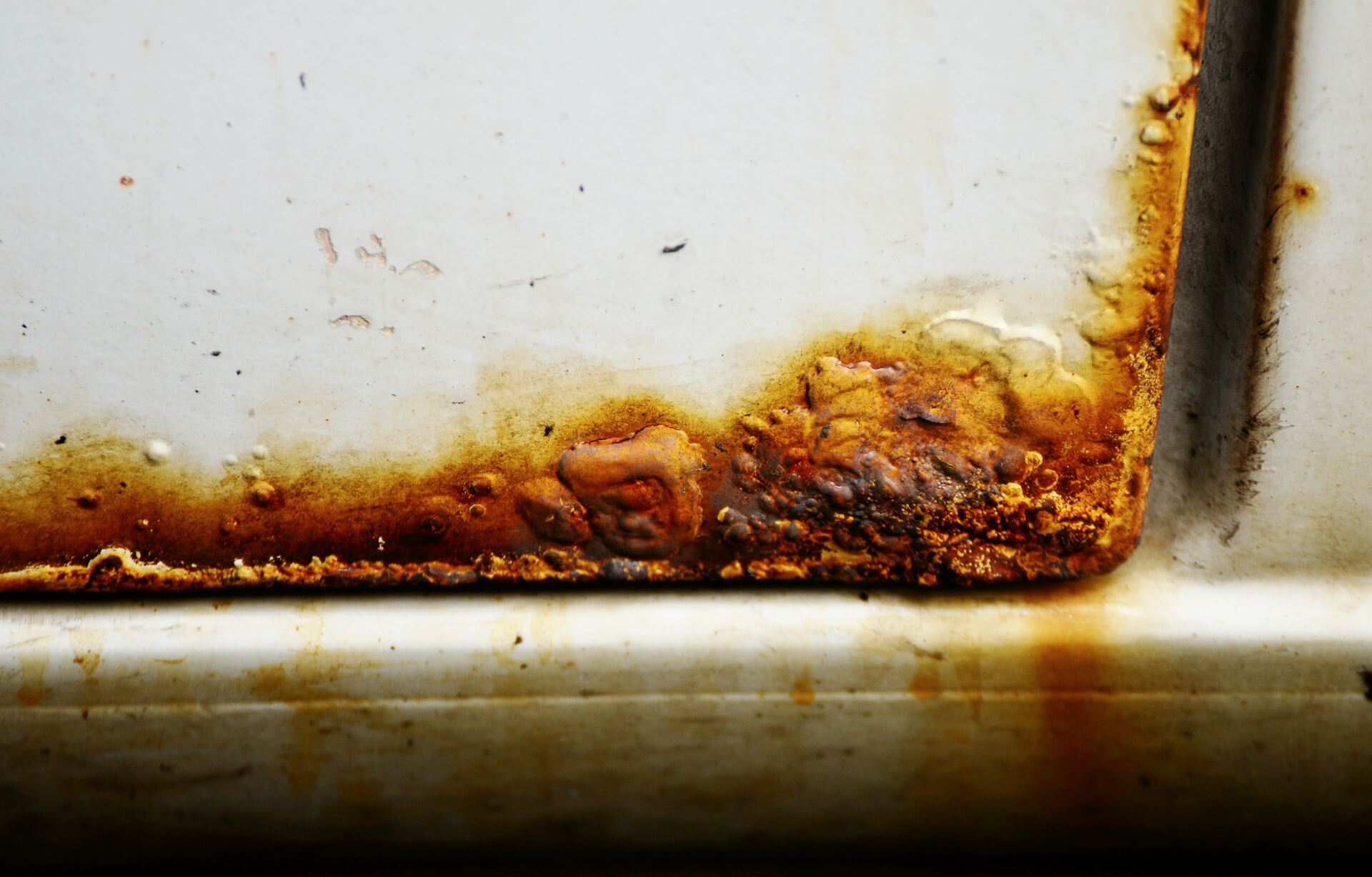 Car Rust Repair Advice
14 December 2022
In this article, we're going to tell you how to repair a scuff or scratch on a plastic or fibreglass bumper using the correct materials, equipment and techniques. 
The same techniques apply whether repairing the bumper yourself or whether it's a professional repair technician doing the job at a car body shop.  
In comparison, the difference will be in the quality of the products used, how they are applied and the overall finish, as the products used in a car body repair shop are far superior to those available in shops such as Halfords. So let's get started with how to repair a scuff on your bumper!
Do you have a bumper scuff and wondering how to repair it?
A bumper scuff or scratch is one of the most common types of car damage and it can happen to anyone, at any time - so don't despair if you need a repair! 
Bumper scuffs are usually caused by contact with another object such as another car, a bicycle, or a pedestrian.
While less serious than other types of car scratches, bumper scuffs can still be unsightly and affect the resale value of your vehicle.
This is why it's important to know how to fix a bumper scuff and what type of repair kit to use, if you decide to do it yourself.
Repair the bumper yourself or let a professional do it?
But do you try to fix the damage to the bumper scuff and repair it yourself, or do you get a professional to do it for you?
The answer to this really depends if you have the required skills, time and experience to feel confident in carrying out the bumper scuff repair yourself.  If you are a car enthusiast used to tinkering around with cars and carrying out small repairs, and you possess the correct materials and equipment, then you may decide it's worth having a go at repairing the bumper yourself. Repairing the bumper scuff yourself may save you money, but ask yourself, do you really want the hassle?
Most people have no experience of repairing damage to cars and wouldn't have a clue where to start. Plus they won't have the required materials, equipment, PPE and environment that's needed anyway.  Also, it isn't a simple and straightforward procedure as there are many steps involved in repairing a bumper, meaning it's not an easy fix and is both time consuming and labor intensive.
In which case, to avoid any disasters and to ensure a professional finish, we'd always advise getting an expert to repair any scuffs or scratches to your bumper.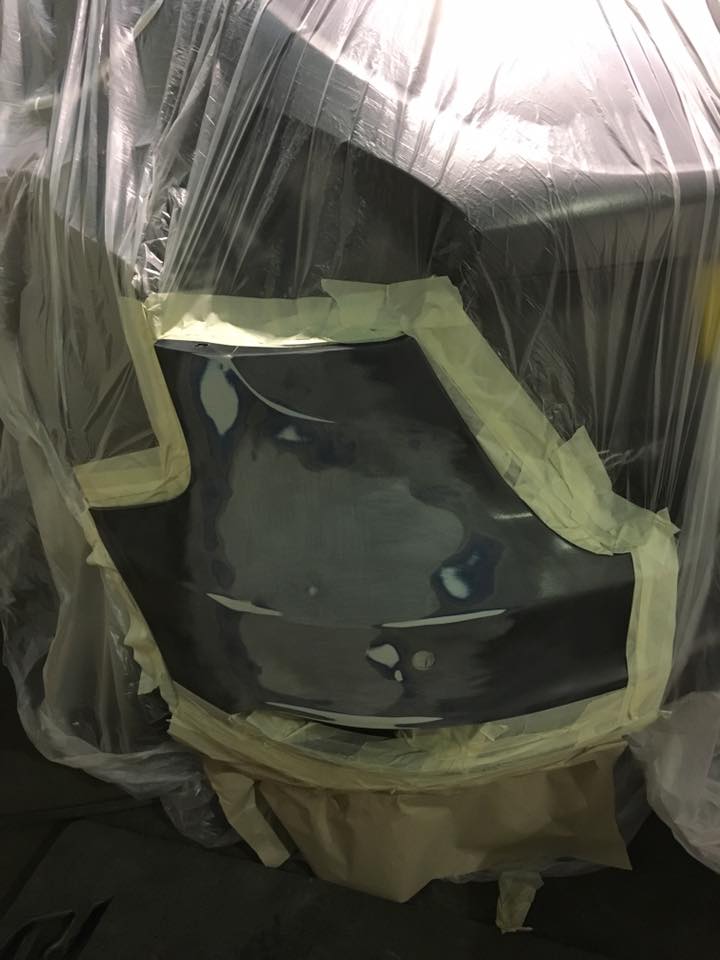 Can any scuffed bumper be repaired?
Bumper scratches and scuffs are unsightly, and alarmingly easy to get no matter how careful a driver you may be.  However, you'll be pleased to know that depending on the level of damage, it is usually possible to repair the plastic bumper parts, especially bumper covers, which are commonly damaged on a vehicle.
For instance, If the only damage is a few scrapes into the finish of the bumper (cosmetic damage), then it can often be repaired relatively easily.
Repairing a scuffed bumper can save you money, compared with complete bumper cover replacement.
Check for any other damage
It's worth bearing in mind though that even if it looks to be just a scrape, It's really important to look out for any other issues that could be present, such as what is behind the bumper? Is it cracked? Is it misaligned or loose? Has the bumper or chasis underneath been damaged in any other way at all? 
Checking and assessing the full extent of the damage is absolutely vital and should be the first thing you do when you receive a scuff, dent or scratch to your bumper.  
Don't just assume that because your bumper can be fixed that other parts of your car are not affected.  It not checked thoroughly in the first instance, you car or vehicle could face more serious problems later on.  So these potential issues must be identified and addressed in order for your car to be fully repaired.
So our advice would be that prior to any repair, it's vital that you carry out a thorough check of the main structure of the vehicle as well as just the scuff to the bumper itself, which could be hiding further extensive damage behind it.
What materials and equipment are needed to repair a bumper scuff?
You can actually buy bumper repair kits online or in auto-body outlets or shops on the high street for that include some of what you need to repair damaged bumpers.  These will usually include a cleaner/de-greaser, different grades of sandpaper/wet and dry paper, filler, colour-matching paint, primer and lacquer.   In addition, some other important materials and equipment you will need for the preparation, painting and finishing of a good bumper scuff repair are as follows:-
cloths and towels
masking tape & paper
scuff & buffing pads 
paint thinners
fade-out lacquer
finishing glaze
sanding blocks and orbital sander
PPE – overalls, goggles, gloves, masks etc
priming equipment, primer gun, paint gun & lacquer gun 
cleaning equipment – bucket, cleaning sponge & water
optional electric polisher
As you can see from the list above, there's quite a lot of materials and equipment that are needed to carry out a good quality and long-lasting bumper scuff repair.  So for a one-off repair, it's probably not worth investing in buying all this equipment.  Therefore, It would be much more practical and time efficient to get the bumper repaired professionally by an auto-body repair specialist.
How do you repair a scratch or scuff on a plastic car bumper?
If you really want to have a go at repairing a bumper scuff yourself, then follow this step-by-step practical guide for vehicle bumper repair:-
 1. Clean the panel to remove any debris
Firstly, you should clean the panels and surrounding area thoroughly before starting any repair work to the bumper scuff.
Preferably, you will want to clean your bumper scuffs using a specific cleaning substance for cleaning bumpers, but if you don't have any to hand, then just use some hot soapy water to wash off any residue.
 2. Sand the damaged area 
Next, you need to sand the affected area right back to the metal until the damage has been removed. First, remove any primer, paint, and primer coat left on the bumper, then sand the affected area until the scratch is completely removed.
That way, when you come to fully reseal the panel, depending on the extent of the scuffed area, it provides a key for any new filler that needs to be applied to restore the panel to its original shape.
 3. Apply body filler to the scuffed area
Depending on the severity of the damage to the bumper, this step won't always prove necessary.
Some bumper scuffs may have just scraped away the paint & damage just the lacquer and finish. However, there are deeper scratches that will need the body filler to be applied.
Lastly, once the filler has been applied and is thoroughly dry, it should be left several hours to harden before continuing onto the next step of bumper scuff repair.
 4. Sand the filler 
In cases where filler was used as part of the bumper scuff repair procedure, you must wait for it to fully dry before the surface is subjected to guide coating and is sanded back into shape.
If the panel still displays scratches left over from this process, then this step may need to be repeated. Eventually, the surface scratches must be refined to allow the panel to be repaired properly and be prepared for the next step.
 5. Prime the scuffed area
It's important to key the damaged area which you've sanded so that it's ready for primer to be applied, which will help to give the paint a good bond to the surface.
You can spray around 2-3 coats of primer to prepare the area for painting. But wait after each coat to let it fully dry.
Once you've applied the final coat of primer, it needs to dry thoroughly for a sufficient amount of time before the next step of the bumper scuff repair is started.
 6. Sand the primer with sandpaper
Once fully dried, the primed surface should then be sanded with sandpaper to provide a smooth finish, and any panels should be keyed to make them dull in order for any paint/lacquer to bond to them afterwards. 
 7. Clean the panels again and mask off
The damaged panels need to be cleaned thoroughly and any panels adjacent to those being restored should be masked off.
This is done to make sure there's no debris that could affect the bond of the paint and lacquer to the bumper and thus spoil the overall finish.
 8. Colour match the paint
In this step, you have to make sure that the paint you've applied is compatible with the vehicle's current paint.
So firstly, you will want to find out what paint code (or color code after July 2014) your vehicle has. A paint code for the vehicle may be searched online to see where it is on your vehicle. In addition, you may want to look up your vehicle's brand and then contact your local dealership for paint codes.
A professional car body repair specialist would know the paint name and colour code from their paint mixing scheme; however, it's a lot more difficult for anyone else not in the industry to obtain the correct information and to make sure they have the correct colour code.
If you can get the manufacturer to send you a sample, then compare the colour of the car's bumper to the manufacturer's sample product in order to check the colour is accurate.
 9. Purchase and mix your paint
If using professional paint mixing at a car body shop, once the correct colour has been found, the colour will be professionally weighed out and mixed to the exact shade required to obtain a perfect finish.
The repair specialist will usually use a paint gun to respray the whole of the damaged area.
If you are carrying out the bumper scuff repair yourself, then you will usually buy a can of spray paint instead there the colour has already been mixed for you.
It is always worth remembering that the quality of spray paints you buy in DIY stores will vary, and it's usually worthwhile investing in a quality product with a decent nozzle to get a better and more professional finish.
 10. Paint the damaged area
Use a paint gun or spray can to paint the primed bumper scratch repair area in multiple layers, applying paint with dry times in between each layer.
After the primer has been fully covered up (ie, no longer can be seen), blend the colour in with the surrounding panel of the bumper so that the repaired bumper scuff blends in seamlessly.
 11. Apply Lacquer and dry
You now need to apply several coats of lacquer on top of the bumper scuff repair you've just completed. The purpose of this is to provide a long-lasting and shiny finish that will protect the area just painted.  
If only part of the bumper has been lacquered, then you will need to fade out the edges.
If you want a professional and durable finish, then you really must consider letting a professional repair technician take care of re-spraying and lacquering any damaged bumpers and panels, as paints and lacquers available in shops are very inferior and will not provide the same finish.
 12. Sand the lacquered area and buff to finish
When you're happy that the lacquer has fully dried and is hard enough, you can then sand it using a wet-and-dry product to remove any brittleness or orange peel.
A machine polisher is then used to buff in order to obtain a smoother surface.
Then, to help protect the paint, the final step is to glaze to give a high shine, while allowing the lacquer to fully cure and 'breathe'.
 13. Wash the vehicle with clean water
Lastly, the final step is to hand wash the vehicle with warm soapy water and rinse with clean water in order to remove all the residue of masking tape, dust and polish from carrying out the bumper scuff repair.
Finally, as a final option, you can choose to apply some wax on a dry microfibre cloth and gently buff in and polish in order to further protect and enhance the finish.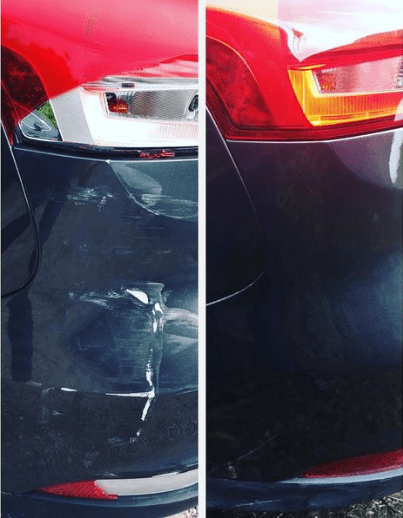 How to prevent bumper scuffs
So how do you go about avoiding bumper scuffs in the first place?  The short answer is that a bumper that is scratch free is the best way to go.
However, it isn't always possible to prevent bumper scuffs, and if they do occur, then the above car bumper scuff repair guide should be applied as soon as possible to repair the damage as quickly as you can.
So what can you do to minimise the chances of bumper scuffs occurring?
It's all down to the type of vehicle you have. The more rigid and brittle a vehicle's bumper is, the more likely that it will chip and crack when bumped into something.
On the other hand, a more flexible and pliable bumper system is much less likely to crack and will hold up better against bumping into things.
Take care when driving and parking
Bumper scuffs are also caused by human error while driving or parking, so the key is to be as careful as you possibly can when driving so as not to bump into bollards, other vehicles or objects. 
When parking, try and park away from other vehicles and take care when driving into or reversing out of car parking spaces.  Accidental bumper damage can happen very easily, but luckily it can be fixed in most cases.
So try not to worry about it, and if the worst happens and you you don't feel confident enough to repair the scuff or scratch yourself, then bring it to us and we'll have your bumper looking as good as new again! 
Have Your Car Bumper Repair Done By Signature
If your vehicle needs a scratch or scuff repair on the bumper, bring it to our car body shop to have it inspected, repaired, and driving like new. Or for your convenience, we offer a fully mobile service and can come to you to carry out the repair on your vehicle. We cover the whole of Greater Manchester, Lancashire, Cheshire, Merseyside and Yorkshire.
If you'd like to get a more accurate price for mobile bumper scuff repair then please get in touch with us now on 0161 667 0919 or by filling out our quick quote form to get a free, no-obligation quotation.
We have lots of 5 star reviews on Google from happy customers, so please feel free to check out our reviews.
Or contact our team to arrange a time to bring your vehicle in for an estimate. We look forward to restoring your vehicle and getting you back on the roads!