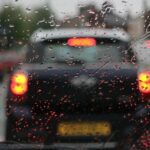 Driving Safety Tips: 12 Tips To Stay Safe on the Road
1 June 2023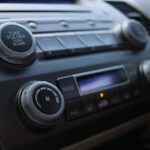 How to Keep Your Car Cool in Summer: Beat the Heat and Enjoy Comfortable Drives
21 June 2023
When it comes to owning a car, we all strive to keep it in the best possible condition. While the exterior receives a fair share of attention, it's equally important to maintain the interior. Over time, car interiors can suffer wear and tear, diminishing their appeal and comfort. However, with professional car interior repair services, you can restore the beauty and functionality of your vehicle's interior.
In this article, we will delve into the world of car interior repair and explore the various aspects associated with it.
Understanding Car Interior Repair
What is Car Interior Repair?
Car interior repair refers to the process of restoring and repairing the various components inside a vehicle. It encompasses fixing issues such as damaged upholstery, cracked dashboards, torn carpets, faulty electrical components, stained interiors, and unpleasant odours. The goal of car interior repairs is to bring back the original look, comfort, and functionality of the vehicle's interior.
Importance of Car Interior Maintenance
Maintaining the interior of your car is vital for several reasons. Firstly, a well-maintained interior enhances the overall aesthetic appeal of your vehicle. It creates a positive impression and makes the driving experience more enjoyable. Secondly, proper interior maintenance contributes to the resale value of your car.
Potential buyers are more likely to be attracted to a vehicle with a pristine interior. Lastly, regular interior maintenance helps prevent further damage and ensures the longevity of the car's interior components.
Common Car Interior Issues
Damaged Upholstery
One of the most common issues with car interiors is damaged upholstery. Over time, seats and other upholstered surfaces may develop tears, rips, or wear marks. These can be caused by various factors such as sharp objects, pet claws, or regular usage.
Cracked Dashboard
Dashboards are prone to cracking, especially in older vehicles or those exposed to extreme temperatures. Cracks not only look unsightly but can also lead to further damage if left untreated.
Torn Carpets and Floor Mats
Carpets and floor mats experience heavy foot traffic, which can cause them to tear or become worn out. Torn carpets not only affect the aesthetics but also pose a safety hazard by obstructing the pedals.
Faulty Electrical Components
Electrical components such as power windows, door locks, and multimedia systems may malfunction over time. Issues like non-responsive buttons or faulty wiring can hinder convenience and comfort while driving.
Stained or Faded Interior
Spills, stains, and UV exposure can cause the interior surfaces to become discoloured or faded. These blemishes can significantly impact the visual appeal of the car's interior.
Unpleasant Odours
Accumulated dirt, spills, and moisture can lead to unpleasant odours inside the car. Lingering smells can make the driving experience uncomfortable and may indicate the presence of mold or mildew.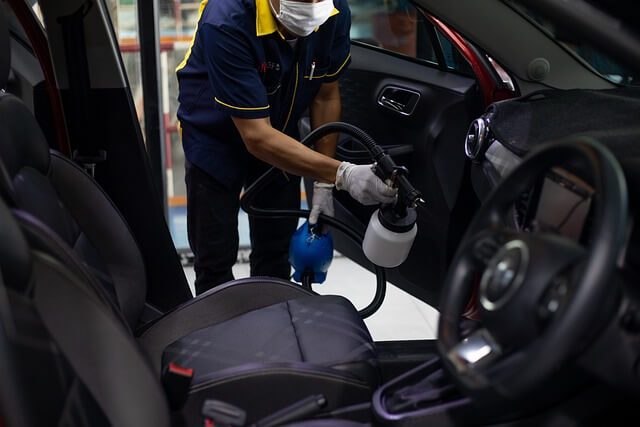 Car Interior Repair Techniques
Upholstery Repair and Replacement
Professional car interior repair services can repair or replace damaged upholstery. They use various techniques, such as patching, re-stitching, or complete replacement, depending on the severity of the damage.
Dashboard Restoration
Cracked dashboards can be restored using specialised techniques and materials. Professionals repair the cracks, restoring the dashboard's integrity and appearance.
Carpet and Floor Mat Replacement
In the case of torn or heavily worn carpets and floor mats, experts recommend replacing them entirely. This ensures a fresh and uniform look while also eliminating potential safety hazards.
Electrical Component Repair
Experienced technicians diagnose and repair electrical issues in the car interior. They troubleshoot faulty wiring, replace defective components, and ensure the smooth functioning of electrical systems.
Interior Detailing and Cleaning
Thorough cleaning and detailing of the car's interior are essential for revitalising its appearance.  Specifically, this includes vacuuming, steam cleaning, and using specialised products to remove stains, dirt, and grime.
Odour Elimination
Professional car interior repair services employ techniques to eliminate unpleasant odours. For example, this may involve deep cleaning, deodorising, or using ozone treatment to neutralise and eliminate odours at the source.
Benefits of Professional Car Interior Repairs
Enhancing Aesthetics and Value
By restoring the car's interior to its former glory, professional car interior repair enhances its overall aesthetics and value.  Consequently, a well-maintained interior makes a positive impression and increases the appeal of the vehicle.
Improving Comfort and Safety
Repairing and replacing damaged components improve the comfort and safety of the car's interior. Smooth-functioning electrical systems, intact upholstery, and fresh carpets contribute to a more enjoyable and secure driving experience.
Extending the Lifespan of Interior Components
Regular maintenance and repair help extend the lifespan of interior components. Therefore, by addressing issues promptly, you can prevent further damage and avoid costly replacements in the future.
Preserving the Originality of the Vehicle
Restoring the car's interior through professional repair services helps preserve its originality. This is particularly important for classic or vintage cars, where maintaining authenticity is crucial.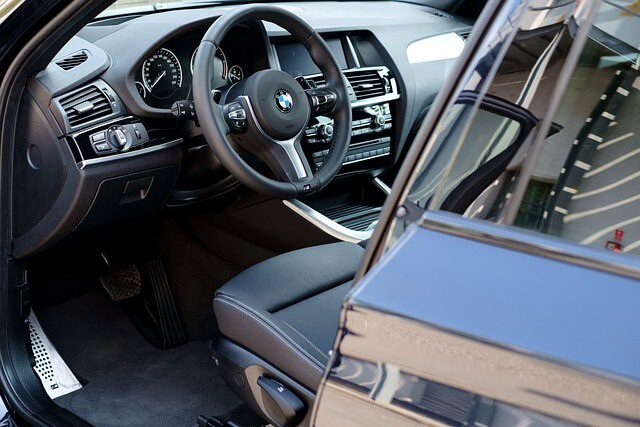 DIY Car Interior Repair Tips
Small Upholstery Fixes
For minor upholstery damage, such as small tears or loose seams, you can use DIY repair kits available in the market. These kits typically include adhesive and patches to fix the issues temporarily.
Carpet Repairs
For minor damage like small tears or burns, you can use a carpet repair kit. These kits usually include adhesive and patches of matching carpet. Firstly, If there are any loose threads or fibres around the damaged area, carefully trim them with scissors or a utility knife to create a clean edge for the repair.  Next, apply the adhesive to the patch and carefully place it over the damaged area, ensuring a smooth and secure fit. Then allow the adhesive to dry completely. Once the repair has dried, use a carpet brush to blend the repaired area with the rest of the carpet. This will help make the repair less noticeable.
Dashboard Crack Repair
In order to temporarily repair dashboard cracks, you can use DIY repair products specifically designed for this purpose. These products fill the cracks and provide a temporary solution until professional repair can be sought.
Stain Removal Techniques
For minor stains, you can try DIY stain removal techniques using household items such as baking soda, vinegar, or specialised fabric cleaners. It's essential to follow the instructions and test the products on a small, inconspicuous area before applying them to the entire surface.
Freshening Up the Interior
Regularly cleaning and vacuuming the interior, using air fresheners, and keeping the car well-ventilated can help maintain a fresh and pleasant-smelling interior.
Consult a professional if necessary
If the damage is more extensive or if you're unsure about performing the interior repair yourself, it's recommended to consult a professional car upholstery repair service. Hence, they have the expertise and tools to handle complex repairs and ensure a high-quality result.
Remember to always follow the manufacturer's instructions on any repair products you use and take necessary safety precautions.
Choosing the Right Car Interior Repairs Service
Experience and Expertise
When selecting a car interior repair service, consider their experience and expertise in handling different types of repairs. Likewise, look for technicians who are skilled in working with various car models and materials.
Quality of Materials and Tools
Ensure that the repair service uses high-quality materials and tools for the job. Consequently, quality materials and craftsmanship contribute to long-lasting repairs and a superior end result.
Customer Reviews and Testimonials
Check customer reviews and testimonials to gauge the reputation and reliability of the repair service. Without a doubt, positive feedback and satisfied customers are indicators of a trustworthy service provider.
Pricing and Warranty
Compare pricing and enquire about warranties offered by different car interior repair services. Transparent pricing and a solid warranty provide peace of mind and ensure that you receive value for your money.
Conclusion 
In conclusion, car interior repair plays a crucial role in maintaining the beauty and functionality of your vehicle's interior. From upholstery repairs to dashboard restoration and odour elimination, professional services can bring back the charm of your car's interior.
Furthermore, by investing in regular maintenance and prompt repairs, you can enjoy a comfortable and aesthetically pleasing driving experience while preserving the value of your vehicle.
FAQs
Q1: How long do car interior repairs take?
The duration of car interior repair depends on the extent of the damage and the specific repairs needed. Usually, minor repairs can typically be completed within a few hours, while more extensive repairs may require a day or more.
Q2: Can car interior repairs be covered by insurance?
In some cases, car interior repairs may be covered by insurance, particularly if the damage is a result of an accident or covered event. It's advisable to consult with your insurance provider to understand the terms and conditions of your policy.
Q3: Can I repair a cracked dashboard myself?
While there are DIY products available for dashboard crack repair, it's generally recommended to seek professional assistance. Professionals have the expertise and proper tools to ensure a long-lasting and seamless repair.
Q4: Can you repair car carpet?
Yes, it is possible to repair car carpet. You should firstly determine the extent of the damage to the car carpet. If it's a minor issue like a small tear or burn mark, you may be able to repair it yourself. However, for more significant damage, it may be best to consult a professional.
Q5: How often should I clean my car's interior?
Regular cleaning of your car's interior is essential in order to maintain its appearance and hygiene. Depending on usage and environmental factors, you should aim to clean the interior at least once every one to three months.
Q6: Can car interior repair increase the resale value of my vehicle?
Yes, a well-maintained and repaired car interior can increase the resale value of your vehicle. Potential buyers are more much more likely to be attracted to a car with a clean and appealing interior.
Get in touch for professional Vehicle Interior Repairs
We hope you enjoyed reading our article on car interior repair and found it useful. If you're looking for an interior car repairs service, then we can do this as part of our specialist services.  Bring your vehicle to our car body shop in Radcliffe near Manchester and our professional technicians will take care of it for you.
In addition, for your convenience, we offer a fully mobile service and can come to you. We cover the whole of Greater Manchester, Lancashire, Cheshire, Merseyside and Yorkshire.
If you'd like to get a price for our professional vehicle interior repair service, then please get in touch with us now on 0161 667 0919 or by filling out our quick quote form to get a free, no-obligation quotation.
We have lots of 5 star reviews on Google from happy customers, so please feel free to check out our reviews.
Or contact our team to arrange a time to bring your vehicle in for an estimate. We look forward to restoring your vehicle and getting you back on the roads!