Tyre Maintenance: Tips for Prolonging the Life of Your Tyres
27 July 2023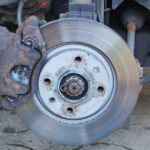 How to Stop Squeaky Brakes on Your Car: Expert Tips and Tricks
10 August 2023
Driving a car can be both convenient and enjoyable, but it also requires us to take responsibility for its performance and longevity. Replacing the air filter in your car is an important maintenance task that should not be overlooked. The air filter is extremely important because it ensures that clean air is able to reach your car's engine, which is necessary for it to work at its best.  But do you know how to replace the air filter in your car?
If not, fear not, as in this comprehensive guide we will provide you with all the necessary information on how to replace the air filter in your car. We will cover everything from the importance of this task to the correct way of doing it. Alright, let's get started and make sure our engines stay running smoothly!
Why is it important to replace the air filter in a car?
In order for your car's engine to generate power, it needs a combination of air and fuel to undergo combustion. The air filter plays a crucial role by acting as a gatekeeper, ensuring that harmful debris, dust, and contaminants are kept out of the engine. However, as time goes by, the filter gathers dirt, which ends up reducing the airflow and affecting the performance of the engine. Furthermore, when an air filter gets clogged, it can cause a few problems. Firstly, it can lower your fuel efficiency, meaning you won't get as many miles per gallon.
Secondly, it can reduce the amount of horsepower your engine produces, making your vehicle feel less powerful. Lastly, if left unaddressed, a clogged air filter can potentially cause damage to your engine. If you regularly replace the air filter in your car, it can have some great benefits. Not only will it improve your car's fuel economy, but it will also help reduce emissions and extend the life of your engine.
Indications that it might be time to replace your car's air filter
Before we start discussing the process of how you can replace the air filter in your car, let's first look at some common signs that indicate it needs immediate attention:-
Reduced Acceleration
If you're experiencing a slow response when you accelerate, it's possible that a clogged air filter is causing the issue. When the airflow is restricted, it can have a negative impact on the engine's power and responsiveness.
Decreased Fuel Efficiency
When the air filter gets clogged, it causes the engine to exert more effort, resulting in higher fuel consumption and decreased fuel efficiency. So If you notice that you're making more trips to the petrol station than usual, it could be a sign that it's time to consider replacing your air filter.
Check Engine Light
If your check engine light is on, it could mean that there are several potential issues, and one of them could be a dirty air filter. In modern cars, there are sensors that can detect when there is a decrease in airflow. When this happens, it activates the warning light to alert the driver.
Unusual Engine Sounds
If you notice any unusual sounds coming from your engine, it could be a sign of a clogged air filter. This can cause a whistling or rumbling noise, which indicates that there may be restrictions in the airflow.
Black Smoke from Exhaust
If you notice thick black smoke coming out of your car's exhaust pipe, it could be a sign that the air-fuel mixture is too rich. This could be caused by a dirty air filter.
When to Replace the Air Filter in Your Car
Now that you understand the significance of maintaining a clean air filter in your car and can recognise the indications of a clogged filter, let's delve into the topic of when you should replace it. Typically, car manufacturers include maintenance schedules in the vehicle's manual, which outline the recommended intervals for air filter replacement. However, it is important to take into account other factors that could potentially speed up the need for replacement:-
Driving Conditions
If you frequently drive on dusty or unpaved roads, your air filter will become dirty more quickly. Therefore, when encountering such situations, it is advisable to consider replacing it more frequently.
Frequency of Use
The frequency of air filter changes depends on how often a car is used. For example, If a car is driven every day, it will need more frequent air filter changes compared to a car that is only driven occasionally.
Environmental Factors
Environmental factors can have an impact on the lifespan of your air filter. For instance, if you reside in an area where pollen levels or air pollution are high, it is more likely that your air filter will become clogged at a faster rate.
How to Replace the Air Filter in Your Car
If you're looking to replace the air filter in your car, don't worry! It's actually a pretty straightforward process. Just follow these step-by-step instructions:-
Gather the Necessary Tools
Firstly, to begin, make sure you have all the tools you need. In order to replace the air filter, you'll require a fresh air filter that is compatible with the make and model of your car. Additionally, gather a screwdriver or socket set and a rag for cleaning purposes.
Locate the Air Filter Housing
In order to find the air filter housing, start by opening the hood of your car. Look for a rectangular or round plastic box near the engine. That's where you'll usually find it.
Remove the Air Filter Cover
In order to remove the air filter cover, you can use either a screwdriver or a socket set. Loosen the clamps that are holding the air filter cover in place. Gently remove the cover.
Inspect the Old Air Filter
To begin, remove the old air filter from its housing and carefully examine it for any signs of dirt, debris, or potential damage. If the item is dirty or damaged, then it would be best to proceed and replace the air filter in your car.
Clean the Air Filter Housing
In order to ensure proper functioning, it is important to clean the inside of the air filter housing before inserting the new filter. Simply use a rag to remove any loose debris that may have accumulated.
Install the New Air Filter
To install the new air filter, carefully place it into the housing, making sure it fits securely. Additionally, make sure to double-check that it is properly positioned to avoid any unfiltered air from entering the engine.
Secure the Air Filter Cover
In order to secure the air filter cover, carefully place it back in its original position. Then make sure to tighten the clamps securely to ensure a proper fit.
Close the Hood
Finally, simply lower the car's hood, and you're finished! Now, your car's engine can breathe in clean, filtered air.
Update the Maintenance Records
As a responsible car owner, it's essential to keep track of your vehicle's maintenance. After you replace the air filter in your car, make a note of it in your maintenance records. This will help you keep a track of when the next replacement is due.
FAQs
How frequently should I replace the air filter in my car?
A: It is generally advised to replace the air filter in your car every 12,000 to 15,000 miles, or at least once a year. However, this can vary depending on factors such as driving conditions and the guidelines provided by the manufacturer.
Can I clean and reuse the old air filter?
A: Although there are a few air filters that can be washed and reused, the majority of them are specifically designed for one-time use. Therefore, for optimal engine performance, it is recommended to replace the old air filter in your car with a new one.
Can a dirty air filter have an impact on the emissions of my car?
A: Yes, a clogged air filter can result in incomplete combustion, which can lead to higher levels of harmful emissions. This, in turn, may cause your car to fail emissions tests.
Is replacing the air filter a DIY job?
A: Yes, replacing the air filter is something you can easily do yourself. However, If you're not comfortable doing it yourself, you can always have a mechanic take care of it for you during routine maintenance.
Will replacing my car's air filter with a new one help improve its fuel efficiency?
A:Yes, having a clean air filter enables smoother airflow, resulting in enhanced fuel efficiency and overall improved engine performance.
Can a clogged air filter cause damage to the engine?
A: If the air filter in your engine is severely clogged, it can actually let harmful contaminants get inside. This could lead to some serious damage to your engine if left unchecked. Regular replacement helps to prevent this from happening.
Is there any difference between a paper air filter and a reusable one?
A: Paper air filters are disposable and need regular replacement, while reusable air filters can be cleaned and reused, but they require periodic maintenance.
Conclusion
Congratulations! Now that you have gained a comprehensive understanding of the significance of replacing the air filter in your car and the correct procedure to follow, you are well-equipped to replace one. By regularly maintaining your car's air filter, you can not only enhance its performance and fuel efficiency, but also play a part in creating a cleaner environment.
It's important to keep in mind the manufacturer's recommendations and take into account your driving conditions when deciding how frequently to change the filter. By ensuring that your air filter is clean, you can help your engine breathe more easily and maintain its smooth performance for many years to come.
Get in touch for professional Car Body Repairs
We hope you enjoyed reading our article on how to replace the air filter on your car and found it useful. If you're looking for a professional car body repairs service, then bring your vehicle to our car body shop in Radcliffe near Manchester and our professional technicians will take care of it for you.
In addition, for your convenience, we offer a fully mobile service and can come to you. We cover the whole of Greater Manchester, Lancashire, Cheshire, Merseyside and Yorkshire.
If you'd like to get a price for our professional vehicle body repair service, then please get in touch with us now on 0161 667 0919 or by filling out our quick quote form to get a free, no-obligation quotation.
We have lots of 5 star reviews on Google from happy customers, so please feel free to check out our reviews.
Or contact our team to arrange a time to bring your vehicle in for an estimate. We look forward to restoring your vehicle and getting you back on the roads!