Diamond Cut Alloy Repair across Manchester
At Signature Alloy Wheel & Body Repairs we have an outstanding reputation for our diamond cut alloy repair and refurbishment service across Greater Manchester.
We are the only company based in Manchester and the North West who provide a mobile same day service for diamond cut alloy wheel repair and refurbishment. This is great news for our clients as it means they don't need to lose their car for a minimum of 5 days if they take their car elsewhere.
If you would like a quote for diamond cut alloy wheel repair in Manchester, either our mobile service or at our body shop, please call us on 0161 667 0919 or fill in our Quick Quote form.
What are Diamond Cut Wheels?
Diamond cut wheels are polished aluminium wheels with a mirror finish and an etched lacquer. Diamond cut wheels look stunning and can often be found on a lot of modern and high end vehicles. There are lots of different types, so that's why it's important to go to a specialist for repair work who will have all the necessary equipment. There's no doubt that diamond cut wheels look great, however, they do have one big down fall - due to the wheels not being painted, it means they are easily damaged by everyday wear & tear such as stone chips and weathering.
How do you repair a diamond cut wheel?
We use state of the art specialist equipment for diamond cut alloy wheel repair and can remove kerb damage and corrosion by re-polishing the outer edges and face of the wheel. This technique should result in them looking as good as new again. However, no guarantee can be given for this type of service due to the nature of diamond cut wheels.
This process starts by removing the alloy wheels from the vehicle and we then go onto repair/refurbish them using what is known as a lathe.
The lathe is used to remove any old layers of lacquer or paint, thus providing a smooth surface for the repair to take place. Then a first stage powder coat finish is applied to the surface and cured. Once this has dried fully and cooled, a thin layer is then cut from the alloy using the lathe before a clear lacquer is applied. The alloy wheel is then returned to the oven for one final cure to finish the process.
On some occasions, it's not always possible to diamond cut alloy wheels as the wheel may be too fragile, and therefore our technicians may advise to have them powder coated instead
You can see the quality of our diamond cut wheel repair in the gallery below.
Diamond Cut Alloy Repair Manchester - Gallery
---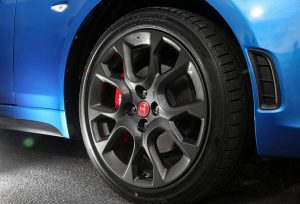 Why choose signature to repair your diamond cut alloys?
Fully mobile service - diamond cut alloy repair across Manchester
Experts - Fully trained & experienced SMART repair technicians
Users of SMART repair equipment & technology
Convenience - Appointments at a time & place to suit you
Customer satisfaction - plenty of 5* reviews on Google & Facebook
100% guarantee - all repair work is guaranteed
We have lots of satisfied customers