Alloy Wheel Refurbishment Halifax
At Signature Alloy Wheel & Body Repairs we pride ourselves on the quality of work we provide when it comes to alloy wheel refurbishment and repair across Halifax and the whole of the surrounding area.
We offer services specifically tailored to suit all kinds of damaged alloy wheels. So whether you're looking for alloy wheel colour changes, scuffed wheel repairs or diamond cut alloy wheel repair then Signature have the skills and experience to get your alloys looking their best.
Our specialist alloy wheel refurbishment and repair service is 100% mobile so we can come to your home, workplace or wherever is convenient for you across Halifax. However, we also offer a free pick up and collection service for the wheels that are more substantially damaged.
When it comes to heavily damaged alloy wheels, Signature have you covered as we can repair most cracked alloy wheels by welding them and then refurbishing the wheel, meaning your alloy wheels will look as good as new.
If you are in Halifax and would like a quote for alloy wheel refurbishment, then please call us on 0161 667 0919 or fill in our Quick Quote form.
Alloy Wheel Refurbishment & Repair Services in Halifax
Split Rim Wheel Repairs
These types of alloy wheels have numerous screws or bolts around the outer edge of the wheel. Split rim wheels also usually have a polished outer edge and a coloured centre. This makes for a longer refurbishment process than standard alloys as it involves the disassembly of the wheels. However, some wheels that may look like they're split rims are actually replicas, so if you're unsure please contact us and we'll be happy to help.
Bespoke Colour Alloys
Aside from a standard silver colour, if your alloy wheels have a colour such as black, red, grey or even two colours then we can repair them. The technicians at Signature strive to achieve the perfect colour matches, however, in some extreme circumstances this isn't possible. If this is the case we will work closely with our client to achieve a colour that they are 100% satisfied with.
Alloy Wheel Customisation
If you are looking to get creative with your alloy wheels then the technicians at Signature Alloy Wheel & Body Repairs can provide this service for you. If you're looking to change the colour from silver to black then we would ensure that every surface of the wheel, both inner and outer is perfectly finished.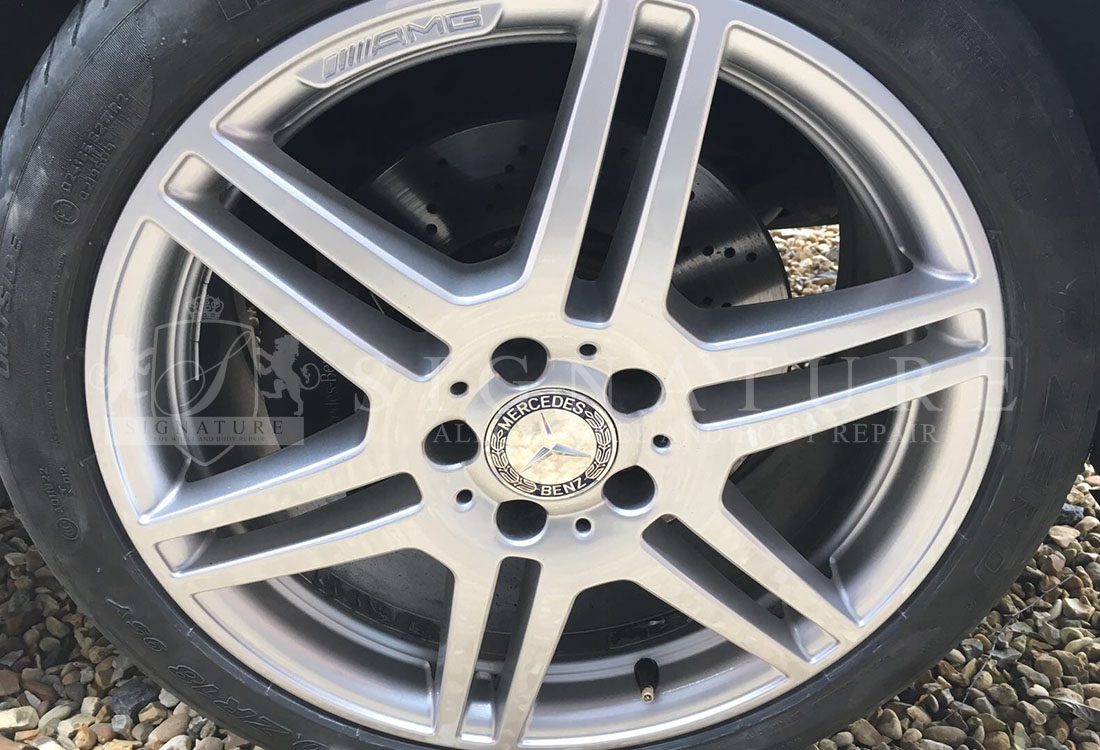 Cracked, Dented or Buckled Wheels
The safety of our customers is paramount to Signature AWBR, that's why we will thoroughly inspect and assess all heavily damaged alloy wheels. If the wheel cannot be repaired then our technician will help you find an alternative. However, if the wheel is repairable then our technicians are qualified to weld the crack and make the wheel fit for purpose.
Locking Wheel Nut Removal
If you have misplaced your locking wheel nuts or are having difficulty with them, give the team at Signature a call and we will remove them for you.
Brake Callipers
To create the ultimate luxury finish we can paint your brake callipers. This can really help to give your vehicle a striking finish.
Diamond Cut Alloy Wheels
We also have the expertise to fully refurbish and repair diamond cut alloy wheels. To learn more about this service click here.
*** Please ensure that you have your locking wheel nut ready and that your alloy wheels have been thoroughly cleaned before the arrival of the technician.
*** Also it is important to be aware that 'tyre shine' can negatively react with freshly painted wheels, with this in mind please refrain from using it within a week of the work completion.
Alloy Wheel Refurbishment Halifax - Gallery
We have lots of satisfied customers

91 reviews on